En este post vamos a ver como es posible meterle mano a algunos juegos viejunos sin mucho trabajo. Con un editor hexadecimal gráfico (ghex) y poco más.
Antes de que se llamase Sierra Online la empresa de Ken y Roberta Williams se llamaba On-line Systems .
La producción de la que vamos a hablar en este post es de una versión para PC IBM que salió en 1982 para esta plataforma (unos años despues de salir para otras).
Una aventura conversacional con muchos gráficos que en la versión PC IBM se llamó «Adventure in Serenia» pese a que su nombre original era «Wizard and the princess».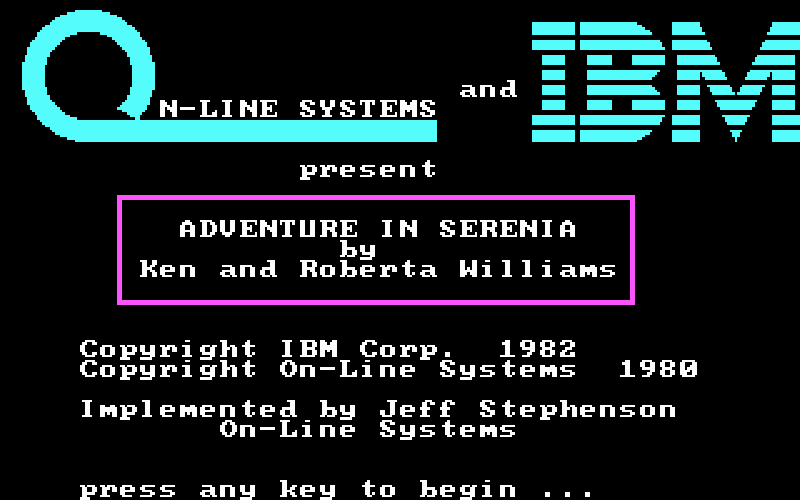 Descargar
Se puede descargar desde aquí: 1982-Wizard_and_the_princess-Adventure_in_Serenia-English-Linux_dosbox.tar.gz
Algunos atajos a la hora de jugar
Es posible navegar de forma corta utilizando «N», «E», «S» y «W» (Norte, este, sur y oeste) en vez de escribir «west», «north», etc…
Con F1 se pueden desactivar los gráficos, con F2 cambiar los colores, F3 para grabar, F4 para cargar, F5 el inventario y F6 Look room
Traducir los comandos y los textos con ghex
Es posible alterar el archivo game.dat para sustituir las palabras en inglés del juego por otras en castellano.
Tanto las ordenes como el texto del propio juego.
Por ejemplo nada más comenzar se verá lo siguiente: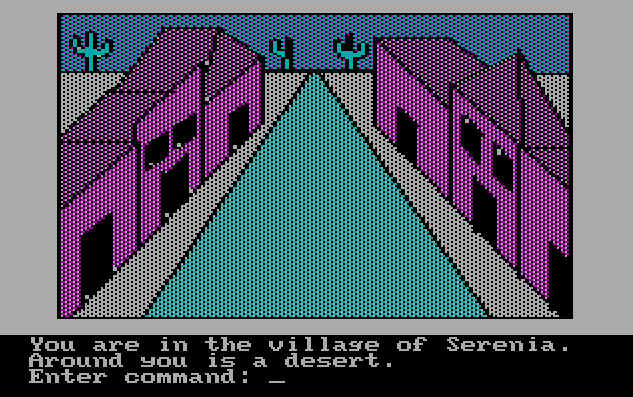 Si escribimos el comando mirar no lo entiende. Es normal ya que solamente entiende algunos en inglés rollo «examine, look, …».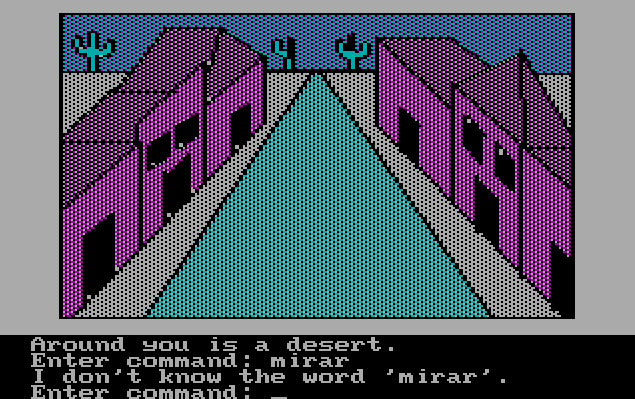 Con hexdump y grep podemos filtrar algunos comandos tipicos de aventuras conversacionales y ver en que posición andan.

En el caso de antes el texto a sustituir sería LOOK más o menos en 0001dcf0
Si disponemos de ghex vamos a poder saltar a esa posición y alterar LOOK por MIRAR.


Y por tanto si guardamos y cargamos de nuevo el juego (con dosbox-x o dosbox) ya funcionará la orden mirar en vez de look. Eso tambien aplicaría al comando «look room» que ahora sería «mirar room».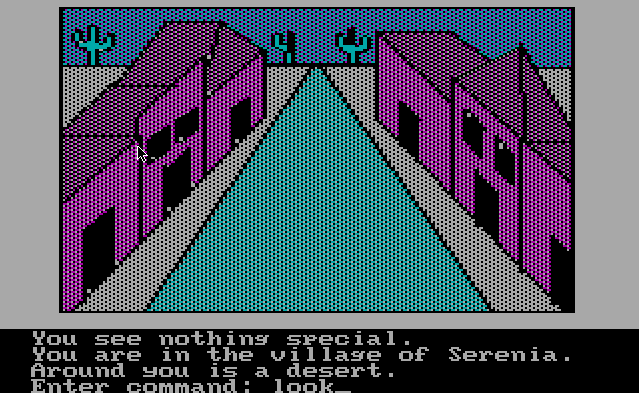 Sacando los posibles comandos
Con el comando strings sobre el archivo game.dat es posible sacar fácilmente los posibles comandos.
Serán algo así como estos que se ven aquí:
BUILDINGBUILDINGHOUSES HOUSE COTTAGE TREEHOUS
SERENIA VILLAGE TOWN
DESERT
CACTUS PLANTS PLANT
ROAD STREET AVENUE
AROUND EVERYWHE
WINDOWS WINDOW
WHOOSH
SCORPION
ROCK STONE BOULDER
SNAKE SERPENT RATTLESN
KNIFE POCKETKN
WATER
FLASK CONTAINE
HELP ASSISTAN
STICK BOUGH CLUB
HOLE OPENING CREVICE SLIT
CRACKERSCRACKER COOKIE COOKIES WAFERS
HISS
NOTE
LOCKET NECKLACE
ROOM
LUCY
PAPER SHEET
BRIDGE
HOCUS
POCUS
CHASM GORGE CANYON CLIFF
WOODS FOREST
ACROSS OVER
ABRACADA
DOOR DOORS
CLOSET
TREE TREES PALM PALMS
TABLE TABLES DESK DESKS
APPLE
GNOME ELF LEPRECHADWARF
BROOK RIVER CREEK
SWIMMING
OCEAN SEA
BANK
PARROT MINAH COCKATOO
BREAD LOAF
VIAL LIQUID
STAIRS STAIRCASSTAIRWAY
LION
BOAT ROWBOAT DINGHY
TUNNEL
BLANKET COVER
ROPE
OARS PADDLES
ISLAND LAND
BIRD BIRDS
OUT
BEACH SEASHORE
X
CHEST TRUNK TREASURE
PIRATE
JUNGLE
PATH
ANCHOR
CAVE
HARP
RING RINGS
FOOTHILLHILLS
WOMAN PEASANT LADY GIRL
PAIL BUCKET
MOUNTAIN
RAINBOW
COIN GOLD
GIANT
SHOVEL SPADE
WARES WARE
PEDDLER MAN
SHOES SHOE
JUG WINE
DAGGER
HORN TRUMPET
PAN POT SKILLET
CASTLE PALACE
MOAT
CROCODILALLIGATO
FLAG
WIZARD
CELL JAIL PRISON
DUNGEON
KEY
PASSAGE PASSAGES
CHAIR CHAIRS THRONE
BOAR PIG
STOVE
CABINET CUPBOARD
DRAWERS DRAWER
MAGIC
LOCK
FROG TOAD
PRINCESS
CLOSET

INVENTORINVENT INV
GAME ADVENTUR
HILL
D DOWN
U UP
N NORTH
S SOUTH
E EAST
W WEST
WINDOW
BOOTS
ALL EVERYTHISTUFF
GO ENTER IN WALK CROSS FOLLOW
LOOK EXAMINE SEARCH
SAY TALK SPEAK
KILL SLAY STAB
FIND SEEK
GET TAKE LIFT CATCH REMOVE CHASE PUMP
WITH USE THROW HIT GIVE TO FEED
DRINK
OPEN
BREAK BUST
EAT DINE
SE SHUT
WEAR
DROP POUR SPILL
JUMP LEAP
WAVE SALUTE
U UP CLIMB ASCEND
N NORTH FORWARD F
S SOUTH BACKWARDBACK B
W WEST LEFT
E EAST RIGHT
D DOWN
SWIM
FLY
UNLOCK UNBOLT
FIX REPAIR FILL
DIG
TIE BIND
PLAY BLOW
RUB
LEAVE EXIT DEPART
BUY PURCHASE
SIT
DANCE
LIGHT
KISS
HELP
SAVE STORE
RESTORE
INIT FORMAT INITIALI
READ
HISS
ABRACADA
HOCUS
LUCY
WHOOSH
LOCK LATCH
ROW
QUIT
DISK DISKETTEDISC
PICK
BUILDINGBUILDI